Beach House Family Shelter
Since 1921, Beach House has been a critical refuge for thousands of individuals at a time in their lives when they desperately needed a place to turn. A place to sleep. A place to begin again.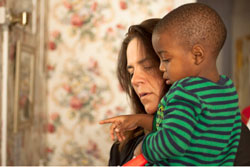 Beach House is a Goal Directed Living Program which provides residents with food, clothing referrals, personal hygiene items, transportation, a healthy, secure living environment.
Make a Difference.
History
The Beach House began in 1921 when Mrs. Samuel (Helen Beach) Jones--wife of former mayor "Golden Rule" Jones-- recognized the need to establish a shelter for unprotected women and children. Prior to that time, homeless women were offered shelter in the Lagrange Street jail. Women from several women's organizations assisted Mrs. Jones in establishing Beach House. The first shelter was located at 547 Erie Street. The first floor of the shelter was for "wayward" girls and the second floor was the refuge for homeless women and children. The shelter was named in honor of the mother of Mrs. Jones, Harriet Beach, who was a defender of social justice. Beach House was managed and goverened by a Board of Directors known as the "Women's Protective Association."
Maintenance and upkeep for the historic 2-story structure built in 1867 are the responsibility of Beach House. Beach House received tax-exempt status in 1942, and received a charter from the State of Ohio as a non-profit corporation in 1963. The name, "Women's Protective Association was changed to "Beach House, Inc."
With the changing needs of our community, Beach House Family Shelter has expanded its role in providing housing to the homeless in the greater Toledo area. In 1982 the program began to include shelter for intact families (including the husband) and single parent fathers with children.
Services
Opportunities:
access housing, employment and education assistance
access medical, mental and spiritual health benefits
learn basic living, budgeting, nutrition and self management skills
participate in a goal directed living program
establish supportive relationships
take the steps necessary to ensure a successful re-entry into independent family living
Facilities:
22 beds, 2 junior beds, and 5 cribs
six bedrooms on the second floor
one bedroom for disabled residents on the first floor
handicapped accessible facilities and entrance on the first floor
three bathrooms for resident use
large living room for socializing, learning, craft night, game night and a play area for children
meeting area for group meetings
resident phone
privacy fence, alarm service and 24 hour surveillance in and outside
playground and large back and side yard
laundry facilities
large dining room for family-style meals
commercial range, refrigerator, freezers, dishwasher, and microwave oven